2008-2009 Elmwood Boys Varsity Basketball
2008-2009 Varsity Roster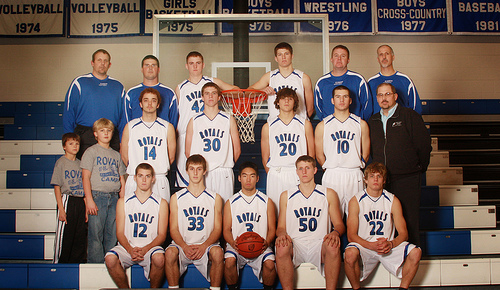 All photos on this page are courtesy of PhotoSmith of Wayne, Ohio. Phone (419) 288-3838
Number
Name
Position
Grade
Height
3
Jacob Hamman
Wing
12
5'8"
5
Adam Tyson
Wing
11
6'2"
10
Reid Rothenbuhler#
Guard
11
5'11"
12
Ryan Green
Wing
12
5'10"
14
Michael Huettner
Guard
11
5'10"
20
Jack Waldock
Wing
10
5'11"
22
Shannon Stewart#
Post
12
6'1"
30
Jay Hannah
Wing
10
6'0"
33
Thor Bottesch#
Wing
12
6'0"
42
Tyler Chamberlain#
Post
11
6'0"
50
Wyatt Ault
Post
12
6'5"
# Indicates Returning Letter Winners
Head Coach:
Ty Traxler
Varsity Assistant:
Matt Hammer
2008-2009 Junior Varsity Roster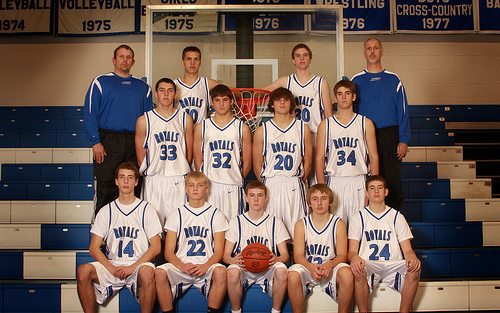 Number
Name
Position
Grade
Height
3
Andrew Davis
Wing
10
5'10"
10
Steve Oliger
Post
11
6'1"
12
Tyler Rosendale
Guard
9
5'10"
14
Austin Stewart
Post
10
6'0"
20
Jack Waldock
Wing
10
5'11"
22
Nate Benschoter
Post
10
6'1"
24
Kevin Hammer
Wing
10
6'0"
30
Jay Hannah
Wing
10
6'0"
32
TJ Waldock
Wing
10
6'0"
33
Max Zyski
Post
9
6'2"
34
Dylan Torrey
Post
10
6'0"
JV Coach:
Jeff Hannah
2008-2009 Freshman Roster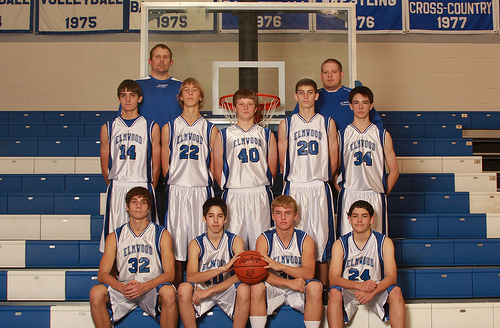 Number
Name
Position
Grade
Height
10
Justin Barndt
Wing
9
5'11"
12
Joey Bockbrader
Wing
9
5'10"
14
Caleb Reynolds
Post
9
6'2"
20
Taylor Hosmer
Post
9
6'2"
22
Kyle Smithey
Post
9
6'2"
24
Jordan Franks
Wing
9
5'9"
30
Trey Marsh
Guard
9
5'9"
32
Conlan Varty
Wing
9
5'11"
34
Jeff Vanscoder
Wing
9
6'0"
Frosh Coach:
Mickey Shank
Assistant:
Scott Bateson
2008-2009 Varsity Cheerleaders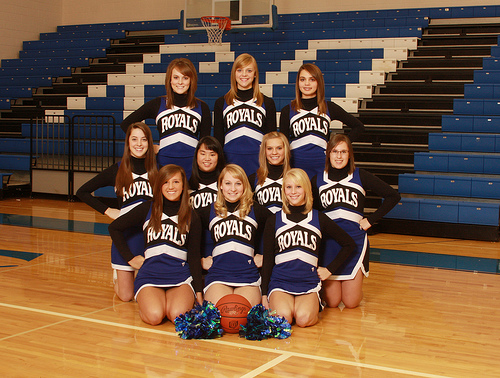 Front Row (L to R): Jessie Foster, Emily Curtis, Lyndsy Goebel.
Second Row: Samantha Haines, Halie Hamman, Katie Reiser, Victoria Carnes.
Back Row: Kelsey Aufdencamp, Morgan Arnold, Shawna McCullough.
2008-2009 Junior Varsity Cheerleaders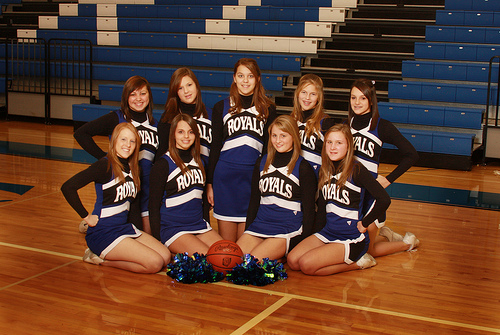 Front Row (L to R): Chelsey Wenner, Brittany Grilliot, Vanessa Wagner, Sarah Laborie.
Back Row: Chelsi Bodi, Chelse Borders, Morgan King, Brianna Hammond, Alissa Lynch.